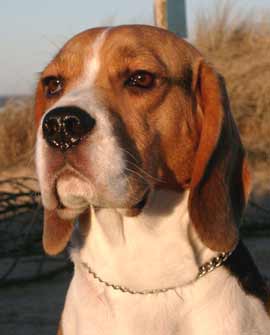 Hanne's Folke
"Rico"
| | |
| --- | --- |
| Lived: | 06. December 2000 - 14. March 2006 |
| Colour: | Tri |
Rico was my first beagle after i moved for myself. He was a great boy with a superb temper. A temper i have not seen since. In the age of 3 we took the Kennel Club mental test. Rico got such a beautiful result.

In his short career he did very well in the showring. He achieved 2 certificates. He got his first certificate at the Beagle Club Very Special Show in 2002, where he was BOS. What a day!!!
He was great to work with regaring obedience training. Allways attend and he had no problem learning new tricks. In all he was a great boy to live with. Calm and patient as the length of the day. At night he was the best warming cushion under the sheets. A dog with a mind and temper like his i have to look for in a long time, but i hope to find it someday.
Thanks to Hanne and Naya from kennel Hanne, for letting me have this wonderful boy.
Pedigree
DKCH Ulradi's Magnus
DKCH KBHV92 KBHV93 KLBCH Daisy Hills Dynamiske Domino

KBHV84 DKCH KBHV90
Daragoj Casio
DKCH Daisy Hills Kyske Karoline
DKCH KBHV94 INTCH
Ulradi's Rosalina
DKCH KLBCH LP1 LP2
Sidney
DKCK KLBCH KBHV92
Daisy Hills Bly Bothilde
Hanne's Camille
DKCH KLBCH LP1
Gold Line's Cool Trademark

DKCH KLBCH LP1 LP2
Sidney
Minettes Meg Of Salisbury
DKCH SKansehøj's Kalla
Skansehøj's Gilbert
DKCH LP1 LP2
Skansehøj's Frederikke