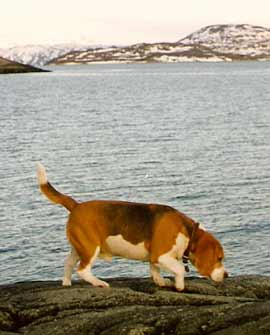 Magic Noire Leporello
"Buller"
| | |
| --- | --- |
| Lived: | 1988 - 2000 |
| Colour: | Tri |
Buller was the first beagle in my life. He was born at the Magic Noire Kennel. He was a sweet, sociable, spoilt, allways hungry, a bit stout and whenever he has the chance he ran of.... A REAL beagle, and a very good friend through my childhood.
He did what he felt like, and it was nit uncommon to find him lying in the windowsill when I came home. He took the opportunity to get away at any time. We would call the taxi stand who would keep an eye open for a beagle. Most of the time the taxidrivers or we found him by the nearest hot-dog stand or restaurant.
When it was time to vacume he was on the spot! He loved to be vacumed at the back. Then the clock turned 22.30 he was ready for bed. He would walk around mom in circles untill she got the message and went to bed. Yes - he was a very special and spoilt dog, but he had a good life.
Pedigree
DKCH KBHV83 Powhatan
DKCH VV77 Black Gold II

Gold Smuggler
Pinewood Courtesy
Daisy Hills Dolly
USACH DKCH The Whims Sweet William
DKCK Daisy Hills Tinka
DKCH Magic Noire Unda
USACH Buglair Touch N Go

USACH Buglair Top Secret
Buglair Sassy Lassy
Mildred
DKCH VV77 Black Gold II
Cirkeline